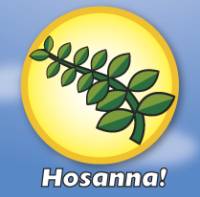 "Hosanna" . . . . it is first used in Psalm 118:25-26:



O LORD, do save, we beseech You; O LORD, we beseech You, do send prosperity! Blessed is the one who comes in the name of the LORD; We have blessed you from the house of the LORD.
(Psa 118:25-26)


John Piper has this to say about it:

And that Hebrew phrase is found one solitary place in the whole Old Testament, Psalm 118:25, where it means, "Save, please!" It is a cry to God for help. Like when somebody pushes out off the diving board before you can swim and you come up hollering: "Help, save me" … "Hoshiya na!"


But something happened to that phrase, hoshiya na. The meaning changed over the years. In the psalm it was immediately followed by the exclamation: "Blessed is he who comes in the name of the Lord!" The cry for help, hoshiya na, was answered almost before it came out of the psalmist's mouth. And over the centuries the phrase hoshiya na stopped being a cry for help in the ordinary language of the Jews. Instead it became a shout of hope and exultation. It used to mean, "Save, please!" But gradually it came to mean, "Salvation! Salvation! Salvation has come!" It used to be what you would say when you fell off the diving board. But it came to be what you would say when you see the lifeguard coming to save you! It is the bubbling over of a heart that sees hope and joy and salvation on the way and can't keep it in.
Man oh man, what it would have been like to be there at that moment - - as Jesus entered Jerusalem and received praise for who He is and why He was there . . . the very town who SO rejected Christ (Luke 13:34-35). What a moment in history His entry into Jerusalem was, with the laying down of coats and branches and shouts of Hosanna. I would love to have seen it. I would love to have been there throwing down branches and getting down on my knees to shout Hosanna with hands lifted high!

But what better time it is now! As believers, we have the Holy Spirit alive and active in US. We are living in this dispensation of grace and it is a time to proclaim to all that salvation has come!
What was from the beginning, what we have heard, what we have seen with our eyes, what we have looked at and touched with our hands, concerning the Word of Life-- and the life was manifested, and we have seen and testify and proclaim to you the eternal life, which was with the Father and was manifested to us-- what we have seen and heard we proclaim to you also, so that you too may have fellowship with us; and indeed our fellowship is with the Father, and with His Son Jesus Christ.
(1Jn 1:1-3)
Another thought - - in light of the joy that comes from looking at this moment when Christ was celebrated with shouts of Hosanna for who He really is - - what an amazing thing that we find such pleasure and fulfillment from God getting praise. It seems that it should only be for His pleasure, doesn't it?